We're thrilled that we can finally announce that we have been working in partnership with the Principal Hotel Company on a full range of bespoke uniforms for their unique, luxury hotels.
The award-winning hotels, in cities across the UK, have recently been revamped and reenvisioned and with this came the need for brand new uniforms for hundreds of staff across multiple roles. Each hotel – Principal Manchester, Principal Edinburgh and Principal York – are set in heritage buildings and have their own unique character; the challenge was to combine these characters and celebrate them in our designs.
The collection covers everything from hospitality staff, front of house, maintenance teams and much more. We'll be fully exploring the collection, including the design process, very soon. In the meantime, as an introduction and a taster, we're sharing some images we took at one of our fittings back in January at Principal Manchester.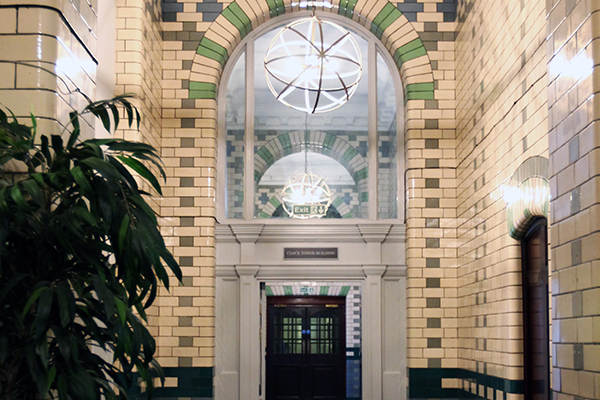 Principal Manchester, previously The Palace, is set in the old headquarters of The Refuge Assurance Company. A classic terracotta Grade II listed building, it is a stunning example of Victorian architecture and one of the city's icons.
In the much loved landmark lie 271 rooms and suites and it is also home to The Refuge by Volta, the city's most popular bar and restaurant, for which Field Grey also designed and supplied a range of aprons.
The fitting took place over three days in the surrounds of the Principal Manchester's inspiring architecture. We fitted jackets, shirts, waistcoats, trousers, coats and skirts; staff got a glimpse for the first time of the uniforms they would be wearing. They tried on accessories like our chestnut brown leather belts and doorman caps (both products proudly Made in England ) and vintage printed ties.
To see the fitting in action, and to get a flavour of the uniforms we have designed and produced, click through the gallery below:
For more information on the Principal Manchester, visit the website.