We've recently talked in detail about our latest project for Home Grown, London's newest members' club. Situated in the heart of Marylebone, Home Grown offers its members – an eclectic mix of entrepreneurs – decadent surroundings in which to drink, dine and connect.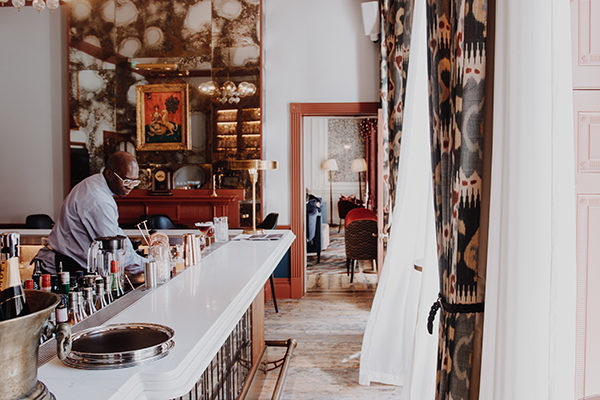 Shortly after the collection launched, we went to visit to see the uniform in action. We met many of the staff and photographed portraits. We also made time to chat with Sophie Chaney, General Manager at Home Grown, and Han Ates, founder of Blackhorse Lane Ateliers, denim makers and collaborators on this very special project.
Sophie, what are you overall thoughts on the uniform collection now it has launched?
SC: I love the uniforms. I love the way they look; I love the utilitarian, versatile look that Field Grey and Han have created. I wanted the team to feel really comfortable in their attire: I think that if you are comfortable, you can be the best version of yourself.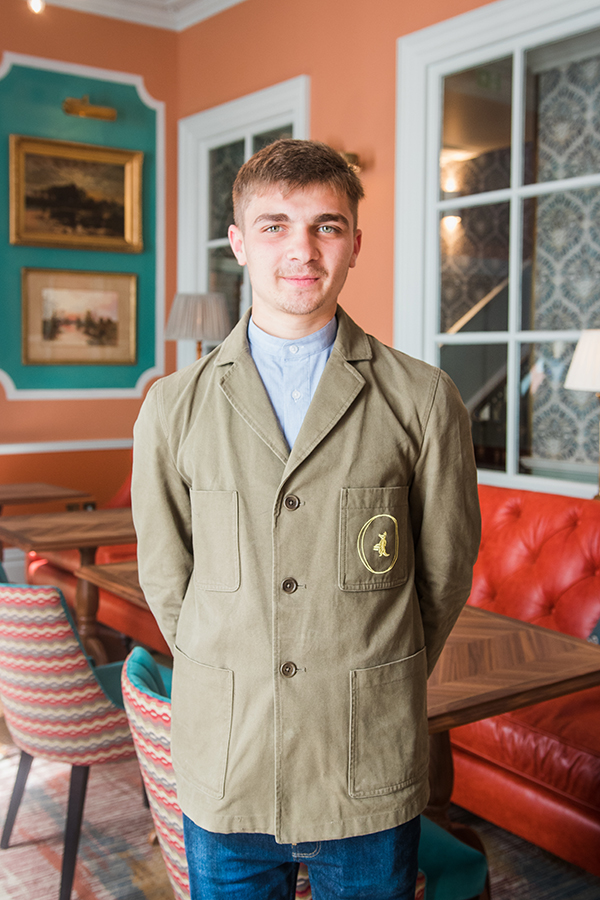 What is your favourite piece in the collection?
SC: For me, it has to be the jeans. I knew we wanted to include jeans, but making them look smart was where Field Grey and Han came in. Field Grey said – 'we know this great company who are doing wonderful things' and told us the Blackhorse Lane story. The guys love them and they look great in them, and we know that they're great quality and are going to last. From a commercial, operations perspective, we need that – and we know they'll only look better with age. That's a really appealing thing for me.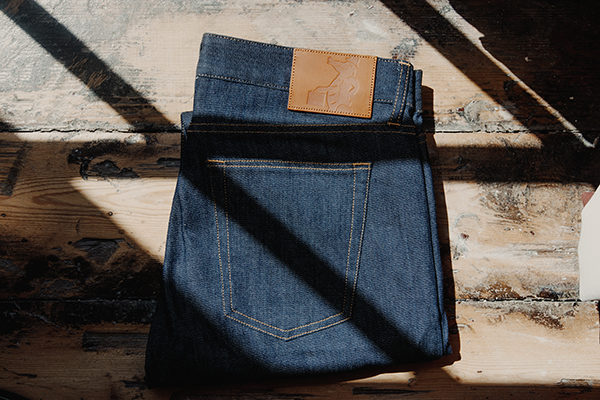 And Han, had you seen the uniform together? What are your thoughts?
HA: I haven't, it's the first time – and I love it. What is interesting is that the male team member was wearing 'ladies jeans' and a female staff member was wearing male jeans. But, jeans are versatile and democratic. Even though they've been around for 150 years, they are very modern. 
SC: I have a pair of (Blackhorse Lane) jeans that I've been wearing since September and they are so fantastic. They are technically men's jeans, but I wear men's because jeans are jeans! When we did the initial meeting, the room looked like a couturier's boudoir: we had rails of dresses and jackets, and the jeans were laid out on this table. Interestingly, the team didn't conform; the girls picked guys jeans and vice versa.
HA: As a society we like to put things in a box, but jeans are one of those items that 'come out of the box'.
SC: Exactly. And I think Field Grey have really complemented the jeans: the colours of the dark brown saddle leather, the brass hardware – it all works so well.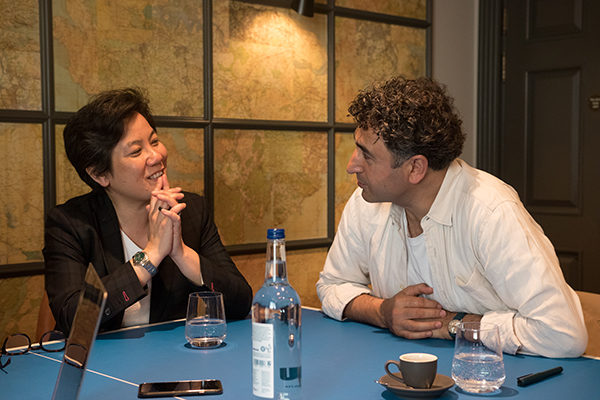 Sophie, We've worked together before on Home House; why was it important to bring the workwear aesthetic to Home Grown?
SC: We are a modern club, but with the heritage and DNA of Home House. When we came up with our entrepreneur ethos, we thought – actually, entrepreneurs don't wear suits anymore. This is the 21st century; people wear what they want. So it was a very organic process – what would be the right thing for a modern club that is non-sector specific and non-age specific? Younger people, of which our staff are some, are just more comfortable in casual attire. But I also wanted a uniform that the team could identify with. 
We have quite a formal uniform range at Home House. It is elegant and sartorial, and it works beautifully. But here, it was about no ties, literally and figuratively. It was about being comfortable and being able to move freely. 
Han, is this the first 'uniform' project that you and Blackhorse Lane have worked on?
HA: In terms of this feel, yes. It's a uniform, but I think jeans have become a uniform in society anyway. They are workwear – jeans come from traditional jobs, like miners. But that has changed in society, somehow they became our everyday uniform.
What is important is that it has to tie in with what we do. At Blackhorse Lane, we're a modern company; money is always secondary. We look at the philosophy of the partnership and how that will fit with ours. Blackhorse Lane is a London story – and we are a London company with London heritage, so it connected.
SC: We talked about the values of our club and what we are trying to achieve here, to discover if they aligned with what Han was trying to achieve. Unless that matched, it wasn't going to go forward.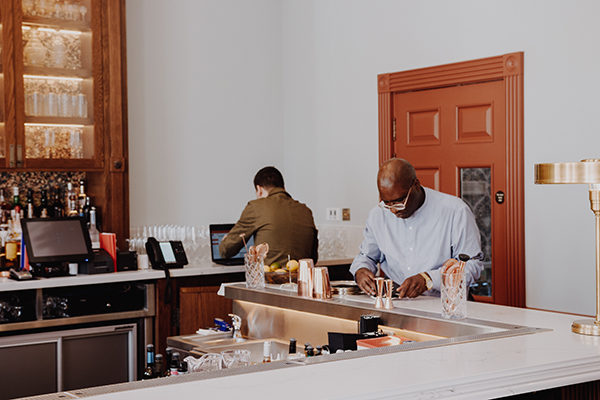 For Field Grey, it's really important to work with locals suppliers as much as possible. Is that important in the Home Grown story?
SC: Yes, definitely. Take Belu Water; we pay a premium for this, but for us, it's the story. It's bottled in the UK, in recycled glass, and they give their profits to water charities. And like Hope & Glory for teas, Paddy & Scotts for coffee; we went out of our way to find suppliers that are… home grown! It was so important when building this business. We practice what we believe in. It costs you more, and it's a difficult balance, but it's worth it. 
And Han, at Blackhorse Lane?
HA: Locality is the most important thing for us. When we created the company, we wanted to act local and think local. Because our professional heritage is in London, we wanted to connect with the city and create a community. If you're dealing with somebody from 5000 miles away, it could be anything – because they are not accountable. Creating communities is so important for accountability.
Sophie, the jacket is part of our Readywear collection, how did that compare with bespoke options?
SC: The honest answer is that it was price sensitive. We wanted to put money in the right places; we couldn't go over budget. Field Grey had a really great solution for us, which we knew would work as soon as we saw it. That was the driver behind it; it just worked. Had there been other choices, I don't think it would have worked so well.
We put the money in the leatherwear and bespoke pieces like the dress, complementing each other. It's something Janice at Field Grey helped us a lot with, as part of this collaboration. Ultimately, it's not all about the money, it's about what's the right thing to do.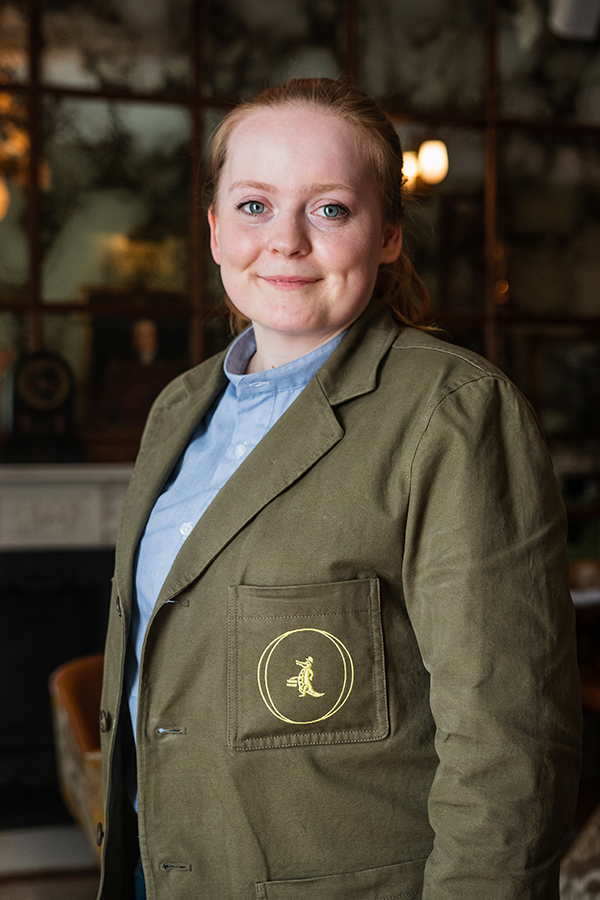 What's on the agenda for Home Grown for the next few months?
SC: What's not on the agenda?! It's still very early days. It's been tough: we're in four Grade II listed buildings that have historically been renovated badly and we've had to repair them. With all of that you get massive quirks, so bedding down the building is still a massive part of what we're doing day-to-day. We're building memberships and we have 500 already.
Are there any crossover members with Home House?
SC: Yes! A lot of people had interest from Home House – 'what are you doing, how will it work, will I get a special rate?' And the answer was yes you can: if you fit the business criteria that we've set. You need to be a high growth entrepreneur or an investor, or part of this small pool of very well-chosen service providers who are enhancing the journey for entrepreneurs, but who aren't going to be tapping our members on the shoulder trying to do deals. As long as people fit those criteria and want to be part of our community, they are welcome. I've seen it happening –  people are really happy to bounce over to people and they're connecting, quite organically.
And Han, what is in the pipeline for Blackhorse Lane Ateliers?
HA: We're opening our first store. Last year we opened a pop-up shop in Shoreditch which was very successful. So we're launching in Coal Drops Yard, on the main concourse, next door to Kitchen Provisions. They've restored the area beautifully, but there is so much red tape to follow. Because I always do my own project management and design, I thought – I can do this! I was stubborn for four weeks, but I've recently had to give up. Within four or five weeks we'll be opening the store. We want to disrupt the experience and challenge people to think differently.
That's so exciting! Will it be a purely retail space?
HA: No, we're going to have workshops where we'll teach people how to make jeans. We'll work with Gather who'll do something in the space. We'll also do a live stream into the store from of our studio in Walthamstow, and we're looking for a DJ to mix machine sounds into a more rhythmic sound, so you'll get a musical version of the studio. We want people to understand that this beautiful jacket or pair of jeans was made by somebody with their hands. It will be a constant celebration of artists and makers.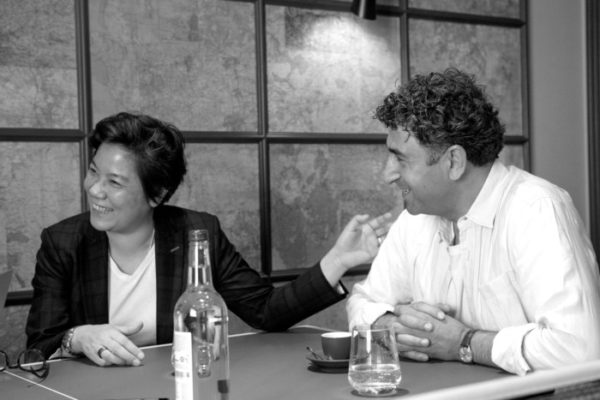 For more information about Blackhorse Lane Ateliers at Coal Drops Yard, visit their website; for information about Home Grown and membership, click here. 
Photography by Jordan Hare for Field Grey