This week, on our blog and Instagram, we're exploring Field Grey's ever-expanding portfolio of print and textile designs, and the stories behind them.
Prints and patterns can be an important tool for conveying a message or telling a story.
We tell stories through our print designs, using inspiration from interiors, products, the manufacturing process, and the catwalks.
From digital prints inspired by tobacco leaves to bold, graphic prints inspired by historical art movements, we fully research a brand's story to feed this into our collections. 
We have also collaborated with a variety of British and international fashion designers who create bespoke prints for our clients, but this week we're looking at our very own designs. Here are four and the stories behind them:
City Lights Print, South Place Hotel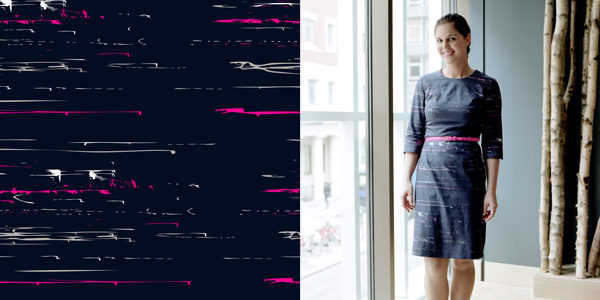 Inspired by the catwalks and in particular Dries Van Noten, our bespoke print for D&D London's South Place Hotel features an abstract cityscape. The motion blur of city lights is transformed into this vector illustration, with pink and white highlights set on a rich blue background. The print was applied to a cocktail dress, worn by hostesses at the hotel's bar. We styled the dress with a thin, neon pink leather belt, which brings out the colours of the print perfectly.
Tobacco Print, Dunhill 1a St James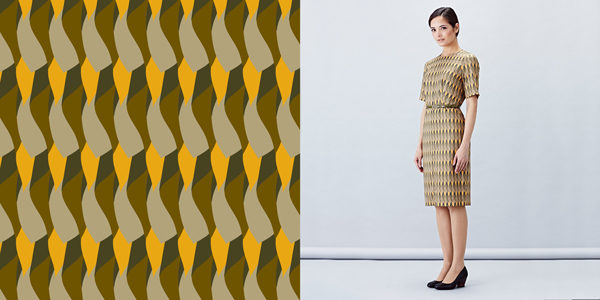 The process of drying tobacco and the journey from leaf to product was the inspiration behind our Tobacco print for Dunhill 1a St James, the home of British American Tobacco in London. The rich hues of dried tobacco leaves were transformed into a vector illustration, which was then digitally printed onto fabric for the dress. Again, a complementary belt completes the look, this time in olive green.
Interior Print, Home House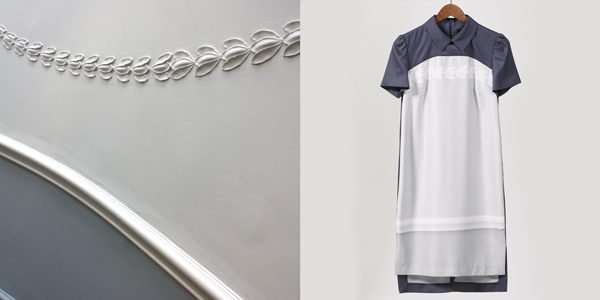 The dramatic interiors of members' club Home House provided the inspiration for this cocktail dress. The neoclassical walls, featuring dado rails and embossed laurel designs, made for the perfect print. We digitally printed a photograph of the wall onto this a-line dress, producing a unique garment that grabs attention.
Vienna Secession, German Gymnasium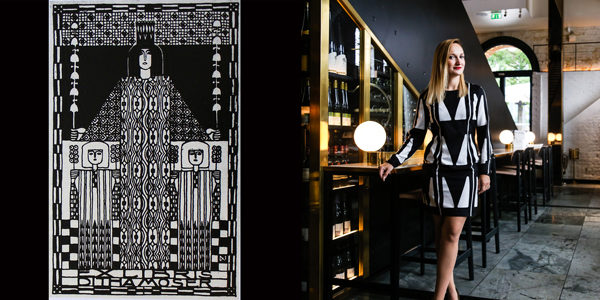 Owners D&D London were keen that the interiors and general brand of German Gymnasium in Kings Cross were not a pastiche of German stereotypes. Instead, we looked to the Vienna Secession, the art movement categorised by its bold, graphic illustrations. From the works of artists like Koloman Moser, we took big contrasting shapes and transformed them into a repeat pattern that we could apply to this long-sleeved hostess dress. The result is a signature statement that is both eye-catching and flattering.
For more information, visit the Field Grey website.